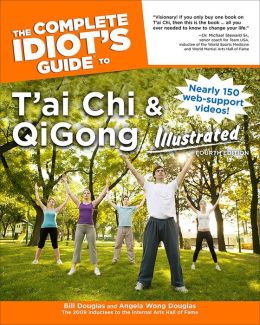 The Complete Idiot's Guide to T'ai Chi & QiGong Illustrated
Overview
T'ai Chi-a martial art used for health, meditation, and self-defense-and QiGong-a large variety of physical and mental training methods based on Chinese philosophy-are widely recognized to heal physically, mentally, emotionally, and spiritually. T'ai Chi has demonstrated its health benefits by being linked with everything from slowing the aging process and increasing balance and flexibility to lowering stress levels and enhancing the body's natural healing powers.
Endurance Training – Science and Practice
Overview
Endurance Training – Science and Practice
is an up-to-date comprehensive guide for exercise and sport scientists, students, coaches and athletes who want to know all the intricacies of preparing for and adapting to endurance activity. Presented in a clear style and format, this book provides a broad base of knowledge and serves as an in-depth resource for anyone involved in research and practice of endurance sports, the fitness industry or health promotion.
Drawing on the knowledge and expertise of
55 international contributors who are recognized worldwide as leaders in their respective fields
, this book covers all the scientific and practical aspects of endurance training and performance: the physiological determinants of endurance capacity; the adaptations that endurance training induces in the major systems in the body; training design to optimize endurance performance and avoid undesired outcomes such as detraining and overtraining; nutritional and psychological recommendations for optimal endurance training and racing; advice on working with young endurance athletes; dealing with stressful environmental conditions; and medical issues related to endurance training and competition.
The systematic approach followed in
Endurance Training – Science and Practice
makes this book invaluable to all athletes, coaches, researchers and practitioners involved in endurance training.

Sport Finance-3rd Edition
Sport Finance, Third Edition, grounds students in the real world of financial management in sport, showing them how to apply financial concepts and appreciate the importance of finance in establishing sound sport management practices. Thoroughly updated to address the challenges facing today's professionals, this text engages students with a practical approach to traditionally difficult financial skills and principles.
New arrivals please check here!